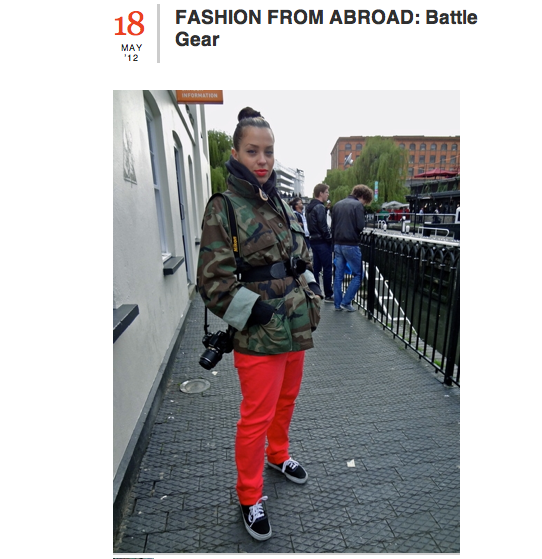 Jacket: Vintage; Hoodie: H&M; Trousers: Dsquared; Shoes: Vans
Four weeks ago my friends from Germany came to London to visit me. For one whole week I knew how it feels to be a travel appellant. Trying to show my friends the hotspots in London we ended up in Camden Town. Camden Town is an area in London which is always busy. You find a lot of clothes, accessories and food there.
Grace Kim, a really sweet girl from London came to me and asked me for a picture. She told me she is doing an internship and wants to write about fashion. Of course I said yes but as this is quite usual in London that people take pictures of other people I haven´t really thought that she will write about me.
This morning I received an email from Grace and was really flattered that she wrote me to send me the link of the article.
Thank you Grace :)
Here is the link to the page:
College Fashionista
Also Grace reminded me of the day and the pictures that I forgot to upload and post for you.
xoxo
Gentiana
-
Vor vier Wochen hatten mich meine Freundinnen aus Deutschland in London besucht. Eine ganze Woche Lang wusste ich, wie sich eine Reiseleiterin fühlen muss. Nach einigen Spaziergängen durch London sind wir in
"Camden Town"
gelandet. Camden ist sehr bekannt für seinen Markt. Dort gitbt es sehr viel Kleidung, Accessoires und Essen aus aller Welt zu kaufen.
Ein sehr nettes Mädchen namens Grace Kim sprach mich an und fragte mich ob sie ein Foto von mir machen kann. Sie sagte das ihr mein Outfit gefällt und sie gerne etwas über mich in einem Artikel schreiben möchte. Da es relativ normal ist das Leute in London Fotos von einem machen, nahm ich das mit dem Artikel erstmal nicht so ernst. Heute morgen erhielt ich eine Email von Grace und war sehr überrascht und erfreut über den Link des Artikels den sie mir geschickt hat.
Danke an Grace Kim :)
Hier ist der Link zu der Seite:
College Fashionista
Grace hat mich zusätzlich an den Tag erinnert und ebenfalls an die Fotos, die ich gemacht hatte und total vergessen habe hochzuladen.
xoxo
Gentiana